This page was last updated: March 16, 2023
John H. Cordova, 

273 Hole N Rock

Central, Utah 84722

Ph: 435-767-8556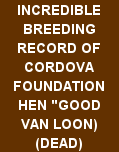 2 x 600 1ST each  time a "DAY BIRD"

          1ST Place Triple Crown 

 400-500-600 Mile Great Salt Lake Combine

                                                       "Clyde" clocked "in-the- diplomas" as a young bird. He clocked better as the races got longer - excellent for one-loft races!   

Do the crosses of "DISTANCE" on "SPEED" work?  -- check out "The Good Van Loon" (on the left) as she was crossed on an Imbrecht and a Devriendt - magic wins!                   

This is off one of the best "South African" pairing of Gabler and Christopher. Six yes 6 siblings off this pair clocked well in South Africa!

THIS "PICASSO" LINE NEEDS NO INTRODUCTION as it is one of the foremost  in the USA!

This "Lady Picasso" is incredible! - absolutely gorgeous with full pink muscle , excellent feather and white nose wattles and eyes - truly outstanding!

This photo does not do her justice --   she is a real beauty! She is large with perfect feather with white eye cere and nose wattle.

She is off my foundation (Kasharian "Diamond")  crossed on an outstanding Christopher male.

Prices:

) Bonnie and Clyde $1200 ea

​) off Clyde and one of these hens  - $1000

) Off the Van Loons and others (Bonnie &` Clyde grandchildren) start at $400

Besides "BONNIE", these hens are my "PRINCESSES" - POLYGAMOUS to the champion -- "CLYDE"

Different "beauties" will be rotated to "Clyde"

"PROVEN" daughter of "Iron Clad" X "Amber"

Checkout the Golden specks eyesign!  -- a rarity! 

"Iron Clad" is the Nanez foundation. 

No better birds exist!

This bird is large and absolutely gorgeous!

"Bonnie" and "Clyde" dropped together in 2018 & 2019 wnning  e-1st place 600 miles on-the-day!

Strong "old style" long distance!

These birds are very good  "AND CONSISTANT" clockers - so critical in breeding of champion flyers!