This page was last updated: September 7, 2022
John H. Cordova, 

273 Hole N Rock

Central, Utah 84722

E-mail john@cordovalofts.com

Ph: 435-767-8556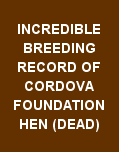 The "4058 Mattens" is one of the toughest racing pigeons to ever flap a wing! 

True "IRON" pigeons  --  350 Mile yb specialists

These birds will return when the others do not.

On tough/smash races/tosses they come and come and come!