This page was last updated: July 17, 2019
John H. Cordova, 

273 Hole N Rock

Central, Utah 84722

E-mail john@cordovalofts.com

Ph: 435-767-8556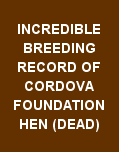 I flew the "Sions" in in 1958! Although an old strain the good ones were beautiful and won most of the long distance races. 

This mating will have "speed" with the ability to come home in difficult races -- perfect for the one-loft-races.

Mate to "1315" is a very outstanding  young male off the

"Diamond"  that in his first year bred two excellent flyers in NJ

Again -- "Speed" with ability to come home in difficult races. 

Note:   A dau off 1315 (X 377 ) - at right) bred - in 2018 - 1st 

OVERALL AU CONVENTION "YOUTH" race and a free round trip to Chicago!

The "4058 Mattens" is one of the toughest racing pigeons to ever flap a wing! 

True "IRON" pigeons  --  350 Mile yb specialists

These birds will return when the others do not.

On tough/smash races/tosses they come and come and come!